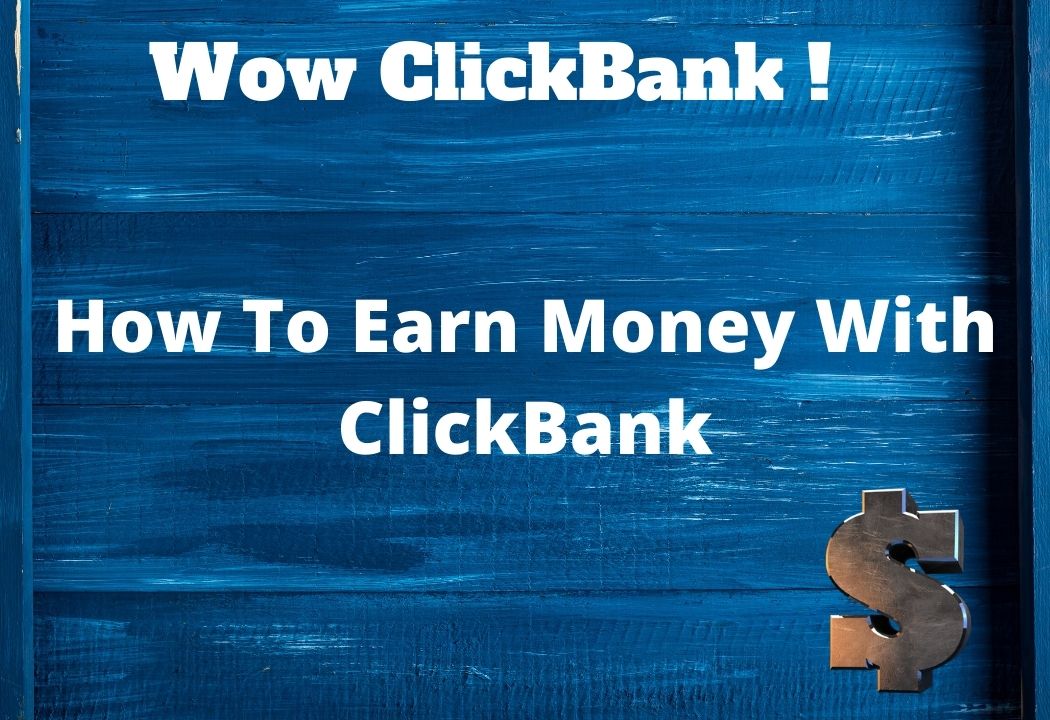 For those wishing to start affiliate marketing, you should know that there are many platforms where you can get products to promote. Clickbank is one of the most complete and famous of all of them. Because it has passed a long way in promoting all kinds of digital products. Most affiliate marketers are interested to earn money with ClickBank, but very few of them know how to do it. Newly approved marketers register in Clickbank with great interest. Then they select a product with high commission and plan differently on how to promote it. But in most cases, their marketing process is not accurate, so they cannot generate the desired traffic. As a result, they left the platform in despair. But the reality is that if you can generate traffic properly, Clickbank will be the most important source of your income.
What Is Clickbank?
Clickbank is one of the most desired affiliate networks. It focuses especially on info products. The catalog of Clickbank includes courses, e-books, software, methods, memberships, etc. Clickbank is one of the best-known affiliate platforms. Also, it is the best of all when it comes to digital products. It is also one of the oldest since it was founded in 1998 and is available in about 200 countries. Anyone can earn money with Clickbank, and they can do it with any topic they are interested in. As an affiliate, you can promote products belonging to various categories, including –

Art and entertainment

Cooking and Food

Computing

Cell phones

Education

Employment and jobs

Games

Health and exercise

Home

Organic products

Sports

Travel and many more.
How Does Clickbank Work?
Clickbank unites digital content creators and affiliates. You can earn money with Clickbank in two ways: as a Vendor and as an Affiliate.
Vendor – Vendors or Creators launch their products or services on the ClickBank platform. Then, they ask affiliates to promote their products to the audience.
Affiliate –  Affiliates are those who are looking to generate income by promoting products made by the creator. 
After selling the product the amount is gathered by ClickBank. Then it is split between the Vendor and Affiliate after accounting for the partner's revenue share percentage. Therefore, you can earn money with Clickbank as a vendor or as an affiliate. 
Advantages And Disadvantages Of Clickbank
Advantages
High sales commissions(75% commission is normal)
Thousands of products available to promote
Good email support
You can sell in many countries
Many products include the recurring offer
Disadvantages
If your account is rejected when you register, you will not know the reasons
There are many low-quality products in their catalog
Too much competition for high rate commission product
High cost for e-commerce platform
Step By Step Guide on How To Earn Money With Clickbank
Now, we are going to show you how to work as an affiliate on the Clickbank platform. Clickbank works like other affiliate networks. 
Step 1: Sign Up For Clickbank
This step is obvious! If you want to start making money with Clickbank, the first thing is to register on their page. Joining Clickbank as an affiliate is free. How to do it? Now we will explain it to you.

On the main page of the platform, you will see the option Register, click on it regardless of whether you are going to join as a merchant or an affiliate (you will select this later). Next, you should fill in the information requested for registration, including your country, name, telephone number, and email. When you finish doing it, at the bottom, check the box – I have read and accepted the terms and conditions, enter the letters that appear in the white square, and click Join Clickbank.
Complete Your Profile
When you enter for the first time with your username and password, you will complete your profile. Although you must fill in all the fields, the most important part is to indicate in whose name the payments will be made and the use that you will give the platform, whether as a merchant, affiliate, or influencer. Select that you are going to promote products as an affiliate. After completing all the fields, click Save.
Create An Account
In the next section, you can create your new account or manage previous accounts. As it is the first time that you are using Clickbank, you should click on the option – I am a beginner. On the next screen, select the Registration option. Select an account type (provider, affiliate, combination, custom, trial) as an  Affiliate, and create a username. With these steps, your account has been created, and now your platform is ready for promoting affiliate products.
Step 2: Choose A Product To Promote
When you have finished registering with Clickbank, you will be able to enter their website with the username and password that you used to register. Now it's time to start making money with Clickbank by promoting the products of your choice. But how do you find the right products? But beware! It cannot be just any product.
As a successful affiliate to earn money with Clickbank, you need to choose the product according to the needs of the customer. To select a product of Clickbank, click on the affiliate marketplace option at the bottom of the main menu. In this way, you will have access to the Marketplace, where you will get thousands of products dividedTheTo into different categories and subcategories.
When you select a category, you'll see all the products available to advertise in that category. When a category has many results, it is best to use the search filters that will allow you to see only products with a certain profit margin, language, payment type, and other values. All products have a file where these are described, and important information is displayed.
Let's see which one you should pay more attention to before deciding whether to promote the product or not. By following ClickBank's metrics, you can select the right product.
Important Metrics of ClickBank
To earn money with ClickBank, you should know which offers to provide maximum profits. For this, follow the metrics of ClickBank to choose the right product–
Initial $/sale – It represents the commission(in dollars) earned by an affiliate for selling the front-end (first) product of an offer.
Avg $/sale – The metric means the average money achieved by an affiliate for its sales in a funnel. 
Avg %/sale – This metric represents the percentage of affiliate commission that is offered by the seller for his product.
Gravity – Gravity means the number of marketers who sold the product in the last 12 weeks. (choose gravity above 20 )
Ave Rebill Total – This represents the recurring commission earned by the affiliate.
Avg %/Rebill – This metric represents the percentage of the recurring commission kit by the product creator.
Create Your Affiliate Link
After selecting the product, click on the "promote" button for your desired product. Next, you must enter your username and a tracking ID. When the affiliate link will be generated, you use this on your website, blog, and social networks. Because through this you will promote your product. 
Finally, press the Generate affiliate link button. Your personalized link will be created. Now start earning money with Clickbank by using this affiliate link. 
Use Various Strategies To Earn Money With Clickbank
In the case of affiliate marketing, the main purpose of a marketing campaign is to increase traffic. It will be easy to generate traffic if you maintain a perfect marketing strategy. You can take the following strategies for promoting your affiliate product to earn money with Clickbank.
Promote your product without paying – By following this method, you don't need to spend a single cent on promoting your product or service. It is also true that free campaigns are taking a long time to generate the right traffic. As a result, you cannot sell your product or service quickly.
Promote your product with paid – If you want the best results, this strategy will facilitate you to learn how to promote products quickly. By following this promotion strategy, you would have to spend money to earn your affiliate commission rapidly.
Sales Funnel
However, one thing to keep in mind is that just copying and pasting the link through various channels cannot increase sales. One more thing to keep in mind for increasing sales is to introduce potential customers to your sales funnel. The best way to earn money with Clickbank is to start as an affiliate and promote quality blogs to build your sales funnels. Your future earning money with ClickBank depends on generating a sales funnel properly. In search engine marketing and social media marketing, traffic can know about your offer when they reach your landing page.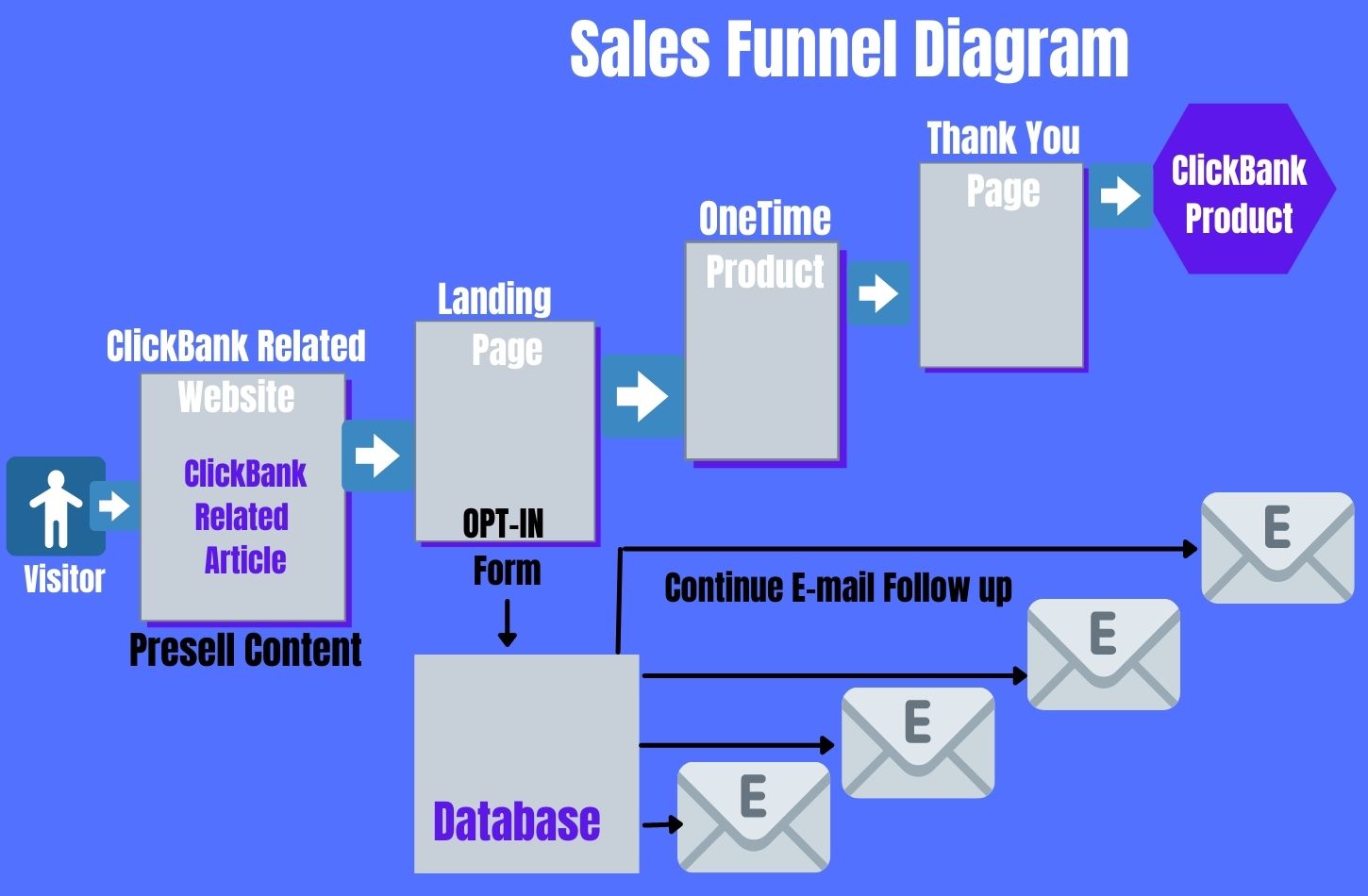 Landing Page
The first step in a sales funnel is to create a landing page and send traffic there. Set up a Thrive Architect to design a landing page. The main goal of creating a landing page is to collect email addresses and contact information for traffic. Also, promote the affiliate product for sales. 
Set up an opt-in form for submitting email addresses on the landing page. To submit this email address, invite the visitor to the landing page for a gift related to the product. If Traffic wants to receive this gift, he will submit his email address. Whenever a visitor submits an email address, you'll store this in a database so that you can use this later for sending emails to traffic. Then you will send him to the Thank You Page, where he will get the gift. 
Thank You Page
The gift you invited on the landing page – Do you want to earn $400 a day with Clickbank? If you want this, submit your email address. This gift can be of any format such as – video or pdf book, etc. Then you will add an affiliate link or button on the Thank You Page. If a visitor clicks on this link or button, he will be directed to your affiliate products page. 
Affiliate Page
If the visitor buys the product by using your affiliate link, then you will get a commission. If he does not buy the product at that time, influence him to buy the product by sending emails through the email address stored in the database. Send emails in the series form to influence the visitors.
The Main Purposes Of Creating a Sales Funnel 
Educate your traffic via videos, blogs, etc.

Inform your clients about the product's features, its benefits, and how to use this.

Increase the probability of your sales by giving a free and unpassable offer.

Gather your traffic's contact details before making a purchase. 
4.1. Promote Your Affiliate Product With Website & SEO
It is important to market any product online through a website or blog. For this, you will be required to create a website or blog. Starting a website is not a difficult task. You can start a website or blog for free by using Bluehost domain hosting. By using the Yoast plugin without paying, you can complete your SEO activities. It is also true that a website with free domain hosting does not rank highly on google as a paid domain hosting website. Also, you can use SEMrush for high-quality keyword research. Then start writing articles for your blog or website. 
Benefits Of Writing A Blog
For promoting Clickbank products, the best way is to write an article expressing your opinion about the product. In this blog, write about the features of the product, its price, what benefits can be obtained by buying the product, etc. With a blog, you will have readers who trust you(and will buy those products that you recommend). Also, you will attract more visitors, and it will be easier for you to advertise your affiliate link to make money with Clickbank. Besides, in a blog, you can add other forms of monetization and thus increase your income further. 
Subject Of The Blog
Your blog can be on any subject that you like and about which you have enough knowledge to write articles. If you are interested in cooking food, your blog should be about food and recipes. Are you excited about motorcycles? Create a page where you talk about the different models that exist. Are you passionate about video games? Start a blog where you review the games you've played. Are you a great reader? Launch a blog where you comment on what you think of the last book you read. It doesn't matter what theme you choose for your blog: the important thing is that you like it and that you have the knowledge to write about that topic.
When determining whether to share the product with your audience, you must click the Promote button. Now it's time to promote products on your blog. If your blog is about yoga exercises, it is not smart to promote a course on how to train a dog. Your readers don't visit your blog to find out how to train their favorite pet. They want to know how to do yoga exercises and everything related to that topic. Moreover, if you offer them a product that is not related to the articles you write on your blog, the chances are that they will not buy it.
Review
You can even search for information and testimonials on the Internet from other people who have already bought it and add them to your article. And of course, you should include a clear button in the article with your affiliate link so that your readers can buy the product.
4.2. Use social media for promoting your product
Social media plays an important role in connecting with friends and family and making money online at the same time. All types of affiliate marketers use social media to promote their services and products. Moreover, Social media marketing is a powerful regulator for establishing a small business. They promote their products on social media by making awareness of the product. This method has proven to be very useful in increasing traffic and human awareness.
Via Facebook
If you have a lot of followers on Facebook and you share quality content(articles from your website or blog, posts from other pages) you may be able to earn money with Clickbank. So when you start your blog or website, don't forget to create an account on Facebook, to promote this. You can share your affiliate link with published articles on this social network. 
Via Video Promotion
Video is the easiest way to share your thoughts with others. Nowadays, video recording and publishing on various platforms is one of the most popular trends. So you should give importance to following this trend to increase your traffic. And publish your video on Youtube and other social media platforms.
Instagram, Twitter, Snapchat
If you want to earn money with ClickBank without a website, then this traffic inflow strategy is perfect for your business. By using influencer marketing, you can generate a good number of followers or fans. For this, you can use Instagram, Twitter, Snapchat, etc. Then take action for influencing your followers by posting your videos or texts. So that they influenced and purchased your product or service. This tactic has been widely used by celebrities because it provides good results.
Via Pinterest
Millions of users actively use Pinterest every day. On Pinterest, you can post images that relate to your approved offer. Also, the most important part of Pinterest is that it allows you to add an external link to your image (pin). To be popular on this platform, you need to add 2- 4 pins per day.
4.3. Marketing With Google & PPC
Paid advertising on search engines or PPC campaigns is best for promoting any kind of offer or service. This is used by high-level affiliate marketers because it provides a healthy flow of targeted traffic. By using this method you can earn money with Clickbank quickly.
4.4. Email Marketing
Email marketing means running campaigns by sending emails to potential customers. For this, you need to collect the email address and contact information of the traffic. You can collect these through your landing page. This collected email list allows you to send emails for promotions of affiliate products. Also, this method allows you to update your email list over time. Follow the series system when sending emails.
First Email
Send the first email with a welcome message.
Second Email
Send your authorized link via the second email and ask visitors do they have seen your product. If seen, question them whether they liked your product. Moreover, ask for their opinion on various aspects of the product.
Third Email
Answer the questions you asked them in the second email. Also, let them know how they can benefit from using your authorized product. And add your affiliate product link to the third email.
Final Email
Create pressure on the visitor in the last email of the series to buy the product. Tell him that the bonus offer for the product is about to expire. If he doesn't buy the product, tell him that because of not purchasing this product someone else has suffered. So that the visitors may be interested and buy the product quickly through your affiliate link. 
Earn Your Affiliate Commission
When anyone uses your affiliate link to buy the product, through that code Clickbank will know that the product has been purchased through you. As a result, the commission will automatically deposit into your account. Once you have put a link on your blog, then you will earn money with Clickbank whenever someone buys that product through you! There are 24 main categories of products, focusing only on those products that can arouse the interest of your audience. In this way, you can increase the chance of selling your product and earning money with Clickbank.
How Much Money Can You Earn With Clickbank?
One of the most frequently asked questions of those who start affiliating with Clickbank is how much money they can make. There is no specific answer to this question as it will depend on the product's price and its characteristics. In most cases, for the sale, you can earn between 50 and 75%, which means, for example, if you sell a product that costs $ 100, you can earn  $50 or more for the promotion of that product.
How much money you can earn depends on the number of your audience. If you have only a few followers, you are less likely to generate income than those with a broad audience. So you should invest time and effort in building a community around your website so that you can earn more money. Clickbank also makes a "Knowledge Base" available to affiliates where it provides tips and recommendations to get more out of the platform and generate more income.
How Does Clickbank Pay?
There are three means of payment in Clickbank: transfer, check, or Payoneer. You can decide how to receive your earnings and how often: weekly, biweekly, or monthly. However, to receive the first check you must reach a minimum of $100 and have achieved 4 sales from 4 different types of credit cards.
Is Clickbank Reliable?
With a very transparent operation, Clickbank is a serious and reliable company.  For this, your earned money will always reach your account safely. Since 1998 it has earned a leading place among affiliate platforms, and its more than 100,000 affiliates show that it is a safe company.
Conclusion
I think now you have an idea of how to promote your products or service. Would you like to join Clickbank and earn money by promoting products that are of interest to your website or blog visitors? So, sign up right now and start generating income by following our suggestion.