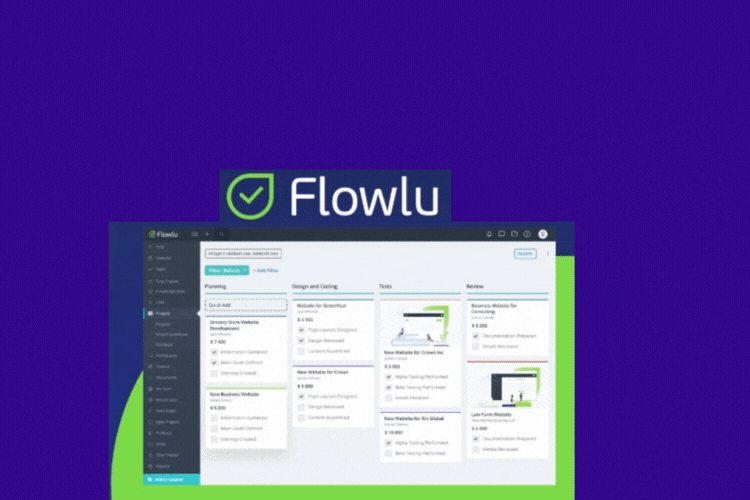 Your company is expanding, which has resulted in an increase in work. You're seeking a user-friendly platform that can handle large projects and has a variety of features, including project management, right? Consider a program to track workloads, manage sales funnels, and manage projects. Flowlu Project and Business Management Tools is the name of that tool. It is a comprehensive set of project and business management tools. Moreover, Flowlu includes features like client portals, CRM, invoicing, Kanban boards, and white-label capabilities.
What is Flowlu?
A cloud-based customer relationship management (CRM) tool called Flowlu is made for companies of all sizes in a variety of industries. Teams can use the solution to control everything from lead creation through sales. The functions that Flowlu offers include invoicing, lead, contact, and sales pipeline management. The best customers for this offer are marketing firms, sales divisions, freelancers, consulting firms, and law firms for project planning, customer relationship management, time tracking, and invoicing. Additionally, it works well for IT teams, and software developers' task and requirement management, such as bug and time tracking, collaboration, billing, and knowledge management. This solution can be used by any entrepreneurs or small and medium-sized businesses (SMBs) who desire to centralize their business operations. Bitrix24 is being replaced by this utility. It has Pabbly Connect, Jira, MailChimp, Slack, and Stripe integrations.


Marketers
Project managers
Small businesses

Jira
Mailchimp
Pabbly Connect
Slack
Stripe


GDPR-compliant
White label
CNAME
Why Should You Use Flowlu?
You can get a 360-degree, real-time snapshot of how your business is going each day with Flowlu.
Additionally, it enables you to build a personal digital assistant. That directs your team through every step of negotiation or activity.
You may communicate and work with outside people easily using the client portal.
Get different views of your tasks, including Gantt charts, calendars, Kanban boards, and GTD to-do lists.
Flowlu, which has a rating of 4.9 out of 5, is included on several shortlists for software in the following categories: best project tracking, strategic planning, CRM, sales force automation, scrum, and collaboration.
Features of the Project and Business Management Tools from Flowlu
Generous Flowlu Management Options
The flexible management solutions offered by Flowlu can help you organize your projects. You may immediately check project status, significant dates, budgets, and even job time estimates. Next, estimate project costs and revenue and compare the results to the final budget. You can keep all of your files and documents organized for quick access by storing them directly in Flowlu.
Project Board
You may rapidly view progress, costs, deadlines, and other information on the project board. Also, you can create recurring tasks for the same workflows or at regular intervals, such as for weekly reports, instantly turning your ideas into activities.
Board of Kanban
With due dates listed next to each task card, the kanban board makes it simple to prioritize work and see what has to be done immediately. Even the ability to track how much time is spent on each job is available to help you improve your workflow. Additionally, you can add collaborators to each task. For this, you should give them the same access privileges as assignees. As a result, they can assist in completing the work. You can easily establish projects, prioritize work, and set deadlines using the kanban board.
Integrated CRM
With Flowlu's integrated CRM, you can manage new sales opportunities and funnels, as well as keep track of client interactions and email correspondence, all from one location. Designing flows to start projects, send emails, and set follow-up activities is simple with CRM automation. To preserve the privacy of your contacts, you can assign users to employee access levels. Also, you can control whose accounts they may view.
Adaptable Templates
Utilizing fully customizable templates, you can create professional estimates and invoices in a matter of seconds by adding your logo, changing the layout, or using a particular color scheme. Additionally, you can increase single-line items or invoice totals by including taxes, rebates, and shipping costs.
Scheduled or Recurring Bills
Generate scheduled or recurring bills, ensuring that you are always paid on time. Additionally, clients can pay you directly from the invoice.
Customized Bills of Flowlu
Quickly design personalized invoices that interact with well-known payment processors to receive payment without effort. Any type of data may be easily stored and managed from a single location thanks to Flowlu's knowledge base.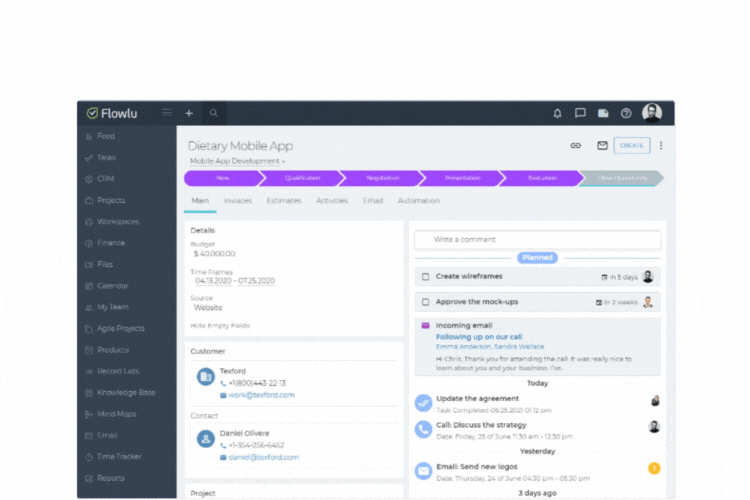 Hub for Shared Knowledge
Keep all of the important data and SOPs for your team organized and accessible in a shared knowledge hub. You can also use it to create a knowledge base self-serve support area for your clients. As a result, your support personnel will experience less stress.
Black-Label Feature
Improve client communication by utilizing the white-label capability. For notifications, bills, estimations, and user invitations to the account, make a custom domain and email domain.
Efficacious Client Portal of Flowlu
To share vital information with your team and consumers, use self-serve knowledge bases. Additionally, Flowlu provides a strong client portal that streamlines information sharing with customers, independent contractors, and other parties not affiliated with your business.
Use the built-in messenger
By employing customizable permissions, you can ensure that clients can only view the data and fields you designate by sending them invitations to the portal by email or a link. They have access to their own projects, tasks, invoices, estimations, and knowledge base. They may also use the integrated messenger to speak with your team.
Unique Domain
Using your own custom domain, adding a logo, and customizing onboarding are all possible with Flowlu's client portal. This will improve collaboration and increase transparency in your businesses.
A Specific Location for Your External Users
The client portal gives your external users a dedicated location. As a result, you can access information and keep in touch with your staff. With integrated project management, kanban boards, CRM, and invoicing all in one place, Flowlu can meet all of your demands.
A 60-day money-back guarantee. Try it out for two months to determine if it's right for you.
One-time purchase of

$79

| $708
10 users

100 GB file storage

Countless automation rules

Unlimited workflows

Countless sales funnels

3 inboxes per user

5-minute sync frequency

90-day initial email sync

User access groups (roles)

Unlimited project templates

Countless record lists

Unlimited knowledge bases

Unlimited businesses

Unique logo

Change History

Extended reports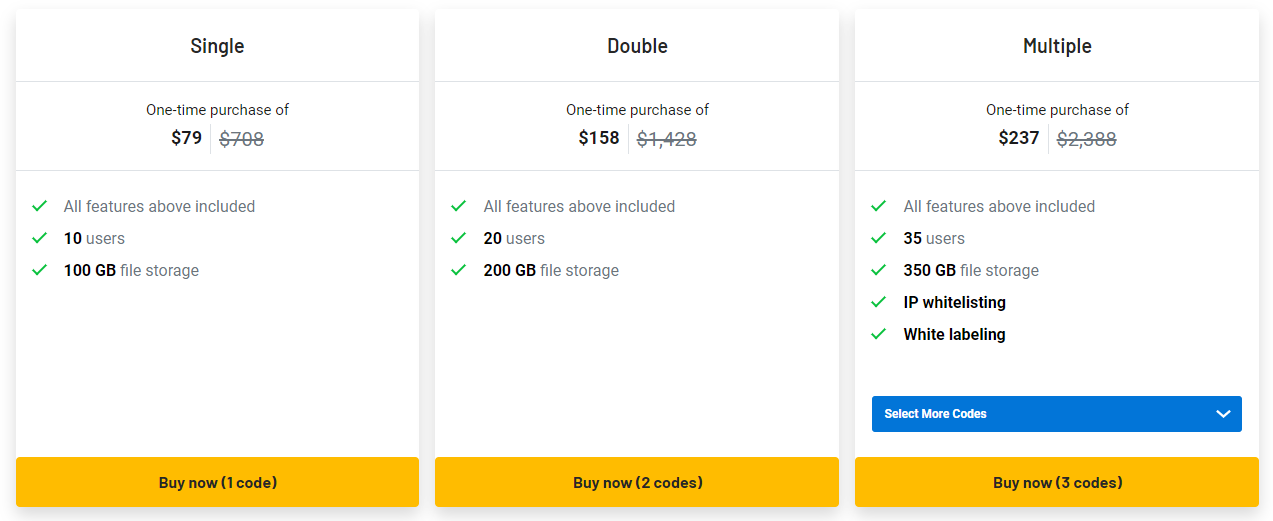 How can new clients receive an additional $10 off?
Go to the discount page for "Flowlu Lifetime Appsumo."

An offer window will display after a brief delay.

Enter to win special offers.

Sending emails to the same recipients from the same address repeatedly

An additional $10 off is available.

The reward is only available to new clients.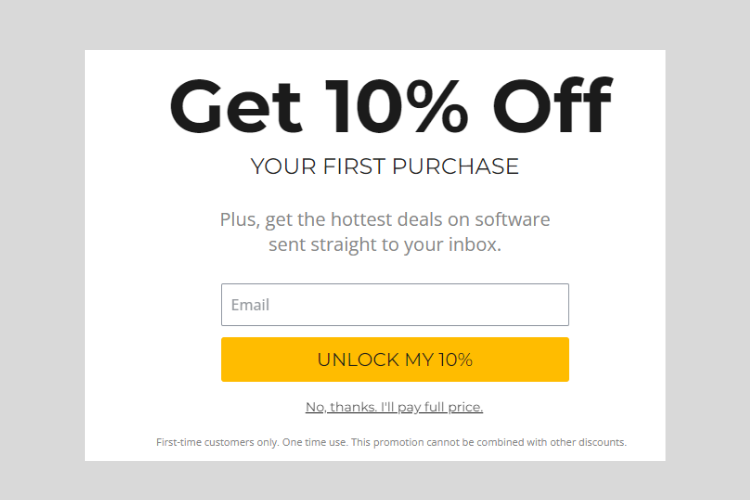 If you are interested in other AppSumo products, you may visit Depositphotos Free Stock Photos Library